Powder River Correctional
http://www.oregon.gov/DOC/OPS/PRISON/prcf.shtml
Address:
3600 - 13th Street
Baker City, Oregon 97814-1346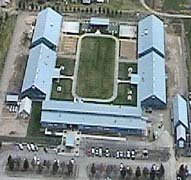 Phone:
Superintendent´s Office: (541) 523-9877
Information: (541) 523-6680
FAX: (541) 523-6678
Custody Level: Minimum
Management:
Dan Johnson, Superintendent
Visiting Hours:
Sat/Sun/Hol: 8:05 - 10:15 a.m., 1:15 - 3:50 p.m.
Visiting Rule: OAR Div 127 Visiting (Inmate)
Directions:
From Interstate 84, take Exit 302. Follow the signs to the hospital. PRCF is 1/4 mile south of St. Elizabeth Hospital.
PRISONER LETTERS
Powder River Correctional Facility serves as a transition and re-entry facility for the Department. Program-eligible inmates preparing for transition from prison to community are sent to the facility for alcohol and drug treatment. The facility's New Directions Alternative Incarceration Addictions Program (AIP) is a 178-bed treatment program for qualifying inmates. Inmates in this program are assigned to a highly regimented program which includes a daily routine of 14-16 hours of treatment, education, and transition classes in conjunction with institution and/or community-based work.

ORS 421.502 to 421.512 Alternative Incarceration Addictions Program

Oregon Administrative Rule 291-062-0100

Powder River is located in rural Baker City in Eastern Oregon . The facility, a 278 bed minimum-security institution was opened in 1989 and serves the Department's mission by focusing its correctional program efforts on inmates who have alcohol and drug treatment needs.
Inmates in this program provide a variety of work related services to the communities in Baker and surrounding counties. One of the primary reasons for this work is to reduce the costs of government, particularly to rural governments, who could not successfully complete needed work projects by other means. Examples of value-added work accomplished by inmate work crews include:

Maintenance of a local church in exchange for use of their facility for Alcoholics Anonymous and Narcotics Anonymous meetings by inmates who are in the transition phase of their treatment program.
Weekly building and grounds maintenance of the Baker County Library in exchange for the library's weekly bookmobile services to the facility for inmates.
Seasonal gleaning of field crops which supports local food banks.
The "Warm Hearts, Warm Homes" project, which involves the Department of Human Services, Oregon Department of Forestry (ODOF), and Powder River in a cooperative effort with private non-profit organizations and community partners to provide firewood gleaned from ODOF and private land sites to fixed income seniors, disabled persons, and persons utilizing subsidy services throughout Baker, Wallowa, and Union counties.
Upkeep of the Leo Adler Parkway (walking path) through Baker City .
Placing Neighborhood watch signs in the community for the Baker County Sheriff's Office.
Litter patrol of County roads throughout Baker County .
Snow removal in the winter months for senior/disabled citizens.
Maintenance, construction and other miscellaneous projects for local churches and other agencies at reduced costs
For comments and questions, you may contact:
Oregon Department of Corrections
2575 Center St. NE
Salem, OR
97301-4667
Phone: 503-945-9090
Inmate Info.: 503-945-9090
Fax: 503-373-1173

Email: DOC.Info@doc.state.or.us
For information about an inmate, please send an email to: inmate.info@doc.state.or.us.